Psa oxygen generator o2 generator oxygen making machine breathing machine oxygen plant air separation
| | |
| --- | --- |
| Cantidad de pedido mínima: | 1 Piece/Pieces |
| Plazo de entrega: | 1 días |

| | |
| --- | --- |
| Paquete: | Wooden boxes in accordance with export requirements. |
| transporte: | Ocean |
| Capacidad de suministro: | 50 Set/Sets per Day |
| Hafen: | shanghai |
Descripción del producto
PSA oxygen generator takes 5A zeolite molecular sieve as adsorbent.The crystal of 5A zoelite molecular sieve is in a cage structure,with well-developed bug holes.There are powerful positive ions and oxygen anions in the bug holes,which make up a molecular sieve with strong polatity, but oxygen and nitrogen are non-polar molecules.When oxygen and nitrogen pass through 5A polar molecular sieve,oxygen and nitrogen produce inductive dipole under the effect of polar molecules;an induction force is production force produced by nitrogen which is easy to be polarized is far more than that of oxygen.Then nitrogen is adsorbed preferentially by 5A zeolite molecular sieve and enriched in thesolid phase of the molecules sieve,while oxygen is enriched in the ono-solid phase.This is resultant oxygen.
Meanwhile 5A molecular sieve is so featured that the volume of nitrogen adsorbed increases when compressed and decreases when decompressed. .Therefore,nitrogen can be adsorbed by compressing 5A zoelite molecular sieve and desorbed form the sieve by
decompressing it. In this way, oxygen can be produced.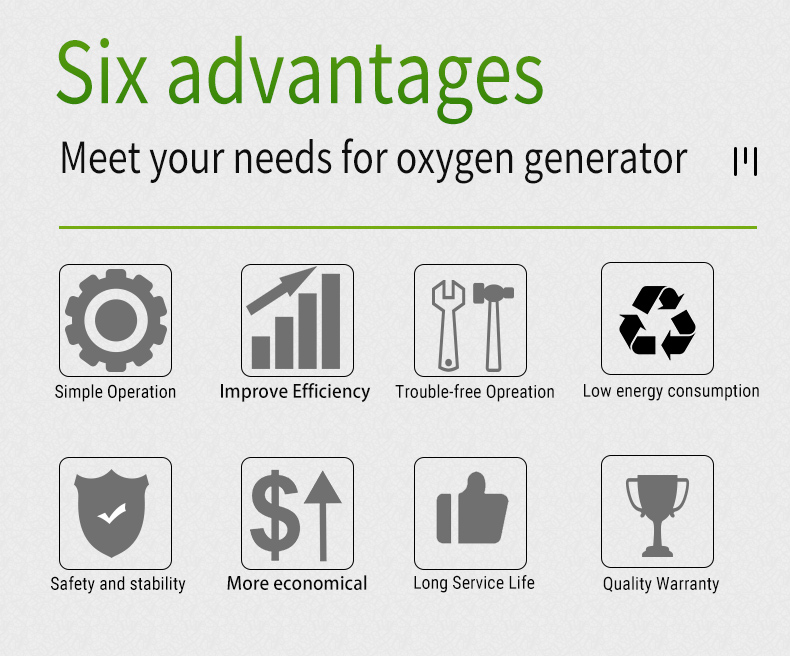 Model Specifications

MS-QC5

MS -QC10

MS -QC30

MS -QC50

MS -QC100

MS -QC200

MS -QC300

MS -QC400

MS -QC500

Gas processing
(Nm3/h)

5

10

30

50

1 00

200

300

400

500

Oxygen (%)

=0.5

=0.5

=0.5

=0.5

=0.5

=0.5

=0.5

=0.5

=0.5

Poor nitrogen feed gas
Dew point(°C)

=-30

=-30

-30

=-30

=-30

=-30

=-30

=-30

=-30

Oxygen(ppm)

=5

=5

=5

=5

=5

=5

=5

=5

=5

Afer purication of high
purity Dew point(°C)

-60

-60

-60

-60

-60

-60

-60

-60

-60

Operating pressure
(Mpa)

=0.6

=0.6

=0.6

=0.6

=0.6

=0.6

=0.6

=0.6

=0.6

The reactor temperature
degree(°C)

300~350

300-
350

300-350

300-350

300-350

300-350

300-350

300-350

300-350

temperature adsorption
tower(°C)

350

350

350

350

350

350

350

350

350

Power consumption(kw)

4.8

6.8

10.5

15

30

50

60

80

1 00

Deoxidizer capacity(kg)

10

30

80

100

200

260

380

480

520

Dimensions(m)
(L xWxH)

0.8x  0.5xl.5

1.2x  0.8x2.4

1.5x   0.8x3.0

2.5x  1.5x3.0

3.0x     2.0x4.0

3.0x    2. 5x4.0

3.2x     2.5x4.5

3.4x     2. 5x4.6

3.6x      2. 5x4.6
Composition of PSA oxygen generator
◆Composition of PSA oxygen generator
◆Air compressor
◆Air pretreatment module(AC)
◆Air tank
◆Oxygen-bitrogen separating adsorber
◆Resultant oxygen buffer tank
◆Automatic control&detection system
Features of Shenlong PSA Oxygen Generator
●The equipment employs excellent adsorbent so that it is more energy-saving.
●Unique program-control valve, compact in structure, small in floor area, pleasing to eye, free of failure after 1million swithovers.
●The device is simple in procedure,compact in structure,small in floor area and minimal in space requirement. Unique patented
●compacting structure,equipped with automatic compensation when the molecular sieve becomes loose,which extends the life of sieve up to 10 years.
●The device enjoys excellent working stability and reliability . It boasts excellent safety when working under normal temperature and pressure.The service life of molecular sieve if used and maintained normally may reach 10 years.
●The adsorber is unique in construction.Distribution of air flow is very uniform,so that full use can be made of the molecular sieve.
Using microcomputer control, higher security
Skid-mounted structure, no installation required
Oxygen System pipeline and valves after explosion-proof degreasing treatment, high safety
Atlas Brand Air Compressor
5.
Special Silencer, sound < 40DB (a)
6.
Energy Conservation and environmental protection, low energy consumption, stable operation
7.
The fault self-diagnosis system is added to the equipment.
Our company was first established In 1966. We are specialized in designing and manufacturing non-standard pressure vessels of class A1, A2(high pressure), searnless cylinder of class B1,welded cylinder of class B2, special cylinders and motor vehicle cylinders of class B3, Valves, pressure pipe of class GB/GC, industrial anneal furnace, furnace roller, radiant tube etc. Over the years, our products are popular on the market.
With a registered capital of RMB 500million, it now has 319 engineers and technical staff. Granted by State General Administration Of The people's Republic of China For Quality Supervision And Inspection And Quarantine, Minsheng is awarded designing and manufacturing license of pressure vessels and gas cylinders in category A1, A2, B1, B2, B3, GB, GC. It is also awarded by ASME with U steel stamp and TPED certification by DNV. Besides, Minsheng also has the qualified certificates of import and export, enterprise credit rating AAA, measuring guarantee, 1S09001,1S014001, 1S018001 and other assurance certification.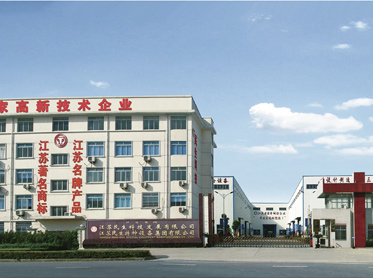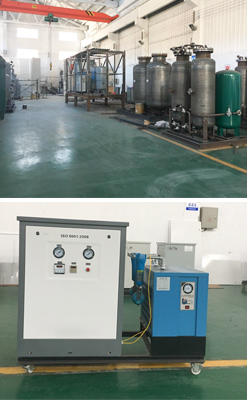 Our Services & Strength
We will reply your enquiry in 24 hours working time.
We are dedicated to providing the best service to global cuetomers with patience and enthusiasm.
Q1: What is the rotor speed for the air end?
A1: 2980rmp.

Q2: What's your lead time?
A2: usually, 5-7 days. (OEM orders: 15days)

Q3: Can you offer water cooled air compressor?
A3: Yes, we can (normally, air cooled type).

Q4: What's the payment term?
A4: T/T, L/C, Western Union, etc. Also we could accept USD, RMB, and other currency.

Q5: Do you accept customized voltage?
A5: Yes. 380V/50Hz/3ph, 380V/60Hz/3ph, 220V/50Hz/3ph, 220V/60Hz/3ph, 440V/50Hz/3ph, 440V/60Hz/3ph, or as per your requests.

Q6: What is your warranty for air compressor?
A6: One year for the whole air compressor(not including the consumption spare parts) and technical supports can be provided
according to your needs.

Q7: Can you accept OEM orders?
A7: Yes, OEM orders are warmly welcome.

Q8: How about your customer service and after-sales service?
A8: 24hrs on-line support, 48hrs problem solved promise.

Q9: Do you have spare parts in stock?
A9: Yes, we do.

Q10: What kind of initial lubrication oil you used in air compressor?
A10: TOTAL 46# mineral oil.
Jiangsu Minsheng Heavy Industries Co., Ltd.
Nuestra empresa (Minsheng) se estableció por primera vez en 1966 y tiene más de cincuenta años de experiencia en la fabricación. Estamos especializados en el diseño y fabricación de cilindros de GLP, cilindros de gas sin costura, cilindros de gas soldados, cilindros de vehículos de motor y otros cilindros especiales, válvulas, recipientes a presión (baja / media / alta presión), etc. mercado internacional. Con un capital total de cien millones de dólares, contamos con 600 ingenieros y personal técnico. Otorgado por la Administración General del Estado de la República Popular de China para la Supervisión de Calidad, Inspección y Cuarentena, Minsheng obtiene la licencia de diseño y fabricación de recipientes a presión y cilindros de gas en las categorías A1, A2, B1, B2, B3, GB, GC. Con ISO9001, ISO14001, ISO18001, sello ASME U, certificación CE TPED y garantía de medición, Minsheng tiene el sistema de control de calidad avanzado y completo. Minsheng ha sido inscrito como proveedor de oro de BP, Totalgaz, Shell, China Petro, China Petrochemical, Sinochem y China Nuclear Industry Group. Tenemos una relación bulid a largo plazo con muchas empresas extranjeras. Con seis líneas de producción que cubren totalmente un área de 250 mil metros cuadrados, de los cuales los talleres ocupan 200 mil metros cuadrados, nuestra capacidad de fabricación anual es de 150 mil toneladas (incluidos cuatro millones de cilindros, cinco millones de válvulas). premiada como "La empresa nacional de alta y nueva tecnología", "empresa de crédito de calidad financiera, empresa AAA", la marca registrada "MS" está certificada como "marca famosa de la nación". Hemos obtenido 252 patentes de productos, algunos productos reciben "productos nacionales de alta tecnología", "productos de marcas famosas", "productos de calidad y confiables". Hemos construido una buena relación con algunas universidades y academias científicas de primer nivel, como la Academia de Ciencias de China , Universidad de Tsinghua, Universidad de Ciencia y Tecnología del Este de China. Minsheng hará todo lo posible para ser un proveedor destacado en el campo de cilindros de gas, válvulas y recipientes a presión. Damos una sincera bienvenida a los socios nacionales y extranjeros para componer la prosperidad del mañana.
Nombre de empresa: Jiangsu Minsheng Heavy Industries Co., Ltd.
Representante: Mr Ni
Producto / Servicio: Cilindros de GLP , Cilindros de oxigeno , Cilindros de amoniaco , Cilindros de cloro , Recipiente a presión , Tanques de GLP
Capital (Million US $): 100 Million
Año de fundación: 2014
Facturación Annual: US$1 Million - US$2.5 Million
Porcentaje de exportación: 11% - 20%
Volumen Total de Compras anual (Millones de dólares EE.UU.): US$1 Million - US$2.5 Million
Número de Líneas de Producción: 10
Número de empleados para investigación y desarrollo: 5 -10 People
Número de empleados para control de calidad: 5 -10 People
Servicio del OEM proporcionado: yes
Tamaño de la fábrica (metros cuadrados): Below 1,000 square meters
Ubicación de la fábrica: No.1, Xinqiao Industrial Park, Xinqiao Town, Jingjiang, Taizhou City, Jiangsu Province, China Address 02: No. 152, South of Lishi Street, Xinqiao Town, Jingjiang, Taizhou City, Jiangsu Province, China
Persona de Contacto: Mr. Austin
Número de Teléfono: 86--18936812998